SUPPORTING OUR LOCAL COMMUNITIES AND GIVING BACK
Legacy Ford Ponoka, a local family business, provides automotive goods and services in Ponoka, but most importantly we believe we are investors in our Community!
We believe in the Community Spirit and we are involved in supporting the people of our Community.  We support the endeavours of our Community Member Groups, and strongly endorse and promote their services and efforts in assisting those people in need.
It is Legacy Ford Ponoka's strong mandate to support our local charities, and a portion of revenue generated in our community is donated back here to our local charities.  In turn, this helps provide the much needed assistance to these charities, but most importantly, to the People of our Community.
We are excited to share our Community Involvement in providing major financial support to:
Ponoka Christian School
Along with other charities and agencies in and around Ponoka


We want to personally say 'Thank You' to You, and to every customer for 'Your' continued patronage, and for 'Your' support in promoting this incredible opportunity to help the people of 'Your Community'.
"No one is useless in this world who lightens the burdens of another."  Charles Dickens
A Donation from Legacy Ford of a van to the Ponoka Christian School will allow students to take field trips and attend sporting events. The official handing over of the key Friday June 12 with Sales Manager Pat Boardman and School Board of Directors Chairperson Jordan Vreugdenhil while some of the students posed.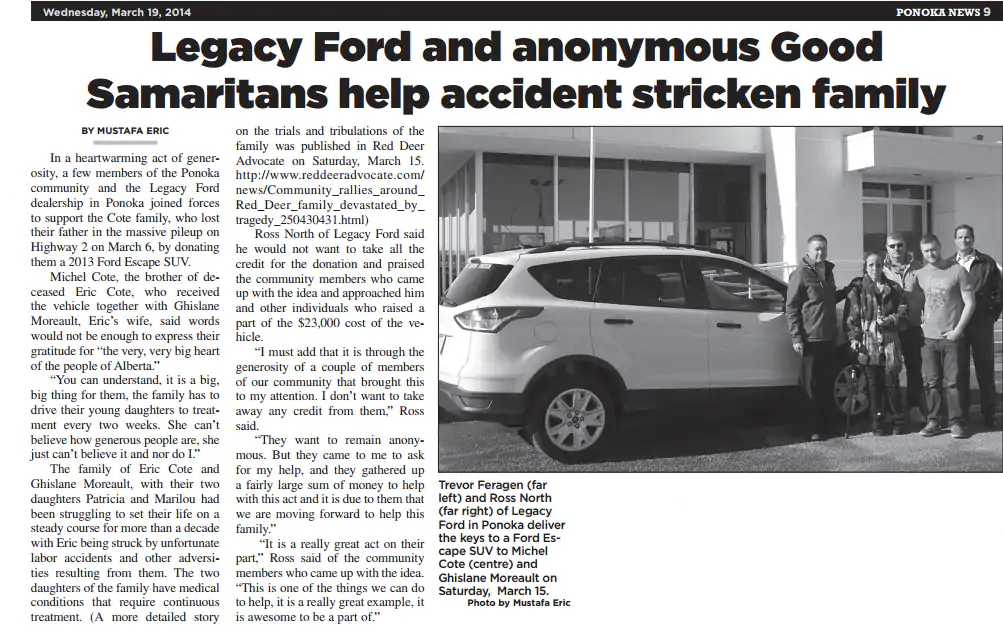 In a heart warming act of generosity, a few members of the Ponoka community and the Legacy Ford dealership in Ponoka joined forces to support the Cote family, who lost their father in the massive pileup on Highway 2 on March 6, by donating them a 2013 Ford Escape SUV.
Michel Cote the brother of deceased Eric Cote, who received the vehicle together with Ghislane Moreault, Eric's wife said words would not be enough to express their gratitude for "the very, very big heart of the people of Alberta."
"You can understand it is a big, big thing for them, the family has to drive their young daughters to treatment every two weeks. She can't believe how generous people are, she just cant believe it and nor do I."
The family of Eric Cote and Ghislane Moreault, with their two daughters Patricia and Marilou had been struggling to set their life on a steady course for more than a decade with Eric being struck by unfortunate labour accidents and other adversities resulting from them. The two daughters of the family have medical conditions that require continuous medical treatment.
Ross North of Legacy Ford Ponoka said he would not want to take all the credit for the donation and praised the community members who came up with the idea and approached him and the other individuals who raised a part of the $23,000 cost of the vehicle.
"I must add that it is through the generosity of a couple of members of our community that brought this to my attention. I don't want to take away any credit from them." Ross said.
"They want to remain anonymous. But they came to me to ask for my help, and they gathered up a fairly large sum of money to help with this act and it is due to them that we are moving forward to help this family."
"It is a really great act on their part," Ross said of the community members who came up with the idea. "This is one of the things we can do to help, it is a really great example, it is awesome to be a part of.